Gentleman Jack Competition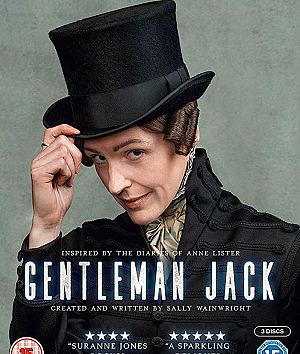 Lesbian Kama Sutra celebrates Gentleman Jack!
A historical drama named Gentleman Jack is a television series created by Sally Wainwright. Set in 1832 in Yorkshire, it stars Suranne Jones as landowner and industrialist Anne Lister (Gentleman Jack) and Sophie Rundle as Ann Walker. The series is based on the collected diaries of Lister.
Gentleman Jack's intimacy coordinator Ita O'Brien used Lesbian Kama Sutra
Ita O'Brien used a Lesbian Kama Sutra during her research for the sex scenes between Anne Lister and her lovers. Ita told The Sun newspaper, "I had to do quite a lot of research for 'Gentleman Jack'. I used the lesbian Kama Sutra..."
"The important thing was to have a template - if you have a text that explains what positions the women favour and how they make love, then you can really honour that." As a result of the clever homework by Ita O'Brien, writer/director Sally Wainwright and actors this lesbian period piece tackles eroticism in other ways than playing into the male gaze. Sally has confirmed, in Yorkshire back then, "The title Gentleman Jack—Jack meant dyke, lesbian. So it was either very vulgar language like that, or sensitive posh language like 'wintering in Rome.'".
LKS COMPETITION TIME!
WE HAVE A WINNER!
@bicapop (Twitter account) is an excellent representative of Gentleman Jack Art and our panel has voted her the best!
Challenge for Gentleman Jack: Depict allegorical or romantic scenarios between Anne Lister and Ann Walker

All artists were rewarded a FREE 180 day MEMBERSHIP
Click Lesbian Kama Sutra WANTED PAGE for all other contributions to Sapphosophy. Send your message first and attach image(s) to our reply